The HTC Bravo rolls out earlier than expected?
12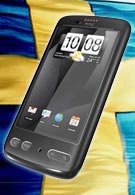 Do you remember the
the plans of HTC
for the first half of 2010 that got leaked on the Internet? One of the most technologically advanced handsets on the list is nicknamed the
HTC Bravo
and supposedly, it is an Android-based cell phone
with pretty much the same hardware features as the Nexus One
, namely 3.7-inch AMOLED display with WVGA native resolution, based on the growingly popular Snapdragon platform and equipped with 5-megapixel camera featuring the extremely pleasing 720p video capture capability. The rumor had it the device was coming this April, but it now seems things are different.
We were already counting the days until the official introduction of the cell phone when it turned out, earlier today, that we would probably not have to wait as long as previously expected and the much-anticipated device would roll out a month ahead of schedule. The information comes from the official Facebook page of the Swedish division of the carrier
3
and the available details confirm the plans of the telecom to release the HTC Bravo this March. Unfortunately, no word has been breathed on the possible price-tag or the software the handset will be running.
The rumor has it the HTC Bravo will be based on Android
2.1
(like the Nexus One), but will utilize the HTC Sense interface instead, something that would probably make the device a whole lot more appealing than the Google Phone to, well, quite a few people. This looks like a probable assumption indeed, since we know HTC has been falling over backwards to equip as many cell phones with their personalized interface as possible these days (the same even applies to affordable models like the HTC Smart). Moreover,
recently surfaced information goes
that the HTC Hero will get updated to OS version 2.1 as soon as February, meaning the HTC Sense will have been prepared for deployment on the latest Android editions by the time we see the HTC Bravo officially released on the market.
HTC Bravo Preliminary Specifications
via
Engadget