The #GALAXY11 begin their match to save the world, yes Galaxy S5, and Gear are there to help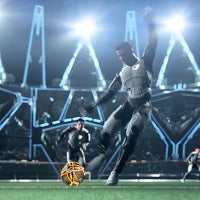 You didn't think that now we know what Samsung's #GALAXY11 promotion was all about the story would just sublimely end there did you? No-no-no-no, the real action is just beginning.
The team that is tasked with saving planet earth in a galactic scale
soccer
football game is now in orbit. The team, handpicked and the world's best, must face the aliens, and if #GALAXY11 lose, the earth is doomed.
The match has begun and as such drama would unfold, the first half is over and frankly, we're getting our butts kicked.
Being a Samsung campaign, the team may yet pull an advantage, thanks to the
Galaxy S5
,
Gear 2
and
Gear Fit
. All of which may have a feature or two that could come in handy when fighting aliens, or competing against them anyway.
If you want in on the action
, you can download several games in the Samsung Apps store, or Google Play.
While we're not sure how this particular game action will play out, we are pretty confident how the story will end. #GALAXY11 will prevail (thus saving humanity), and it will be because of Samsung's line of gadgets, but really we're just guessing.