Galaxy 11: The Samsung Galaxy S5 and soccer, okay, football, will save the planet
23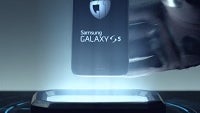 Samsung has
been promoting #GALAXY11 for several months now
. It boils down to a soccer…er…football match with aliens. Now, Samsung is bringing its flagship
Galaxy S5
smartphone into the fray.
#GALAXYS5 is helping the football team get its training underway. No pressure, only that the fate of the world is apparently held in the balance of our team's feet and defeating the alien visitors in any way possible. The Galaxy S5 is the key to the team's training.
The Galaxy S5 is put through its paces, from its Download Booster feature, to the fast camera.
Gear Fit
makes an appearance and of course it would not be complete without the heart rate monitor on the S5 being highlighted. The Galaxy S5's water resistance is tested as the players slide through the water in training, only to miss an alien drone-football's mission to steal the training center's hub, another Galaxy S5. Not to fear though since
Samsung Gear 2
is used to help find the phone.
Then, #GALAXY11 saves their training facility from falling prey to a self-destruct device in the drone. It's all in a day's work, and that was just the training. All-in-all, it's an impressive production.
Samsung produced all this so that you could get in on the action with its new game,
The Match: Striker Soccer G11
, available in Google Play or Samsung Apps. With the game, you play as the best soccer players across a number of playing battle fields. There are a number of other games Samsung has put together as well,
Galaxy 11 Soccer Wars
,
Galaxy 11 Cannon Shooter
, and
Galaxy 11 Shooting Soccer
.
Get to downloading and playing, the fate of the world hangs in the balance.