The Fridge keeps your groceries in check while pleasing your hungry eyes
1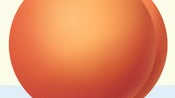 The Fridge is Zanopan Design Corporation's latest iOS app. Coming from a design corporation, you'd expect it to look really good, and that's exactly the case here. But what is The Fridge about? It's a basic, but wonderfully stylish app for keeping your groceries and their expiration days in check.
Buy your stuff, put it in the fridge, then enter its expiration dates inside the app. It will automatically keep count of how many days you have before the juice and strawberries go rotten. During their stay in the fridge, both the literal one and the iOS-one, you can push the "Use up" or "Throw out" buttons to let the app know that you've dealt with them already.
In addition, The Fridge keeps track of how many times you bought an item, how many times you've used it, or (and) how many times you've thrown it away. So if you happen to eat too many donuts or throw away too many rotten pears, you'll get alerted to the awful truth - with nice and colorful visuals to go along with your crushing realization.
The Fridge is a free app that's only available on iOS, but it's compatible with all models of fridges on the market.
| | |
| --- | --- |
| Developer: Zanopan Design Corporation | Download: iOS |
| Genre: Utilities | Price: Free |