The FTC wants details on the deal that made Google the default search on the iPhone
21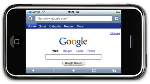 This was certainly not a story that we expected to see pop up on the news wire, not because it isn't an interesting story, and something that we'd like to know about, but because we are now almost 5 years into the life of the iPhone, and only now is the FTC asking for details on the deal that made Google the default search on the iPhone (and all iOS devices eventually).
The subpoena from the FTC wants to know if Google got any sort of preferential treatment in the deal, and the terms of the deal will be part of the FTC's ongoing antitrust inquisition into Google. According to sources from AllThingsD, there have been other manufacturers also questioned about the use of Google search on mobile devices.
This is all part of the ongoing investigation into Google's possible monopoly in the search market. Of course, Google only holds about 66% of the search market share in the US, and traditionally monopolies must hold over 70%, which Google hasn't done in some time. Still, the mobile space is booming right now, and between Android and iOS, Google does hold quite a sizable chunk of the defaults on mobile browsers.
We've always been curious about the details of the deal that made Google the default on the iPhone (and kept it that way even after Android continued to take away Apple's market share). Maybe we'll get to find out soon.