The EWG rates cell phone radiation by phone model and provider
3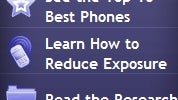 For the past decade there have been
studies
surrounding the possible side effects of radiation caused by cell phones. Some say it is such a small amount that you get more radiation from the sun or a microwave oven, while others say it can cause cancer or brain tumors. Even though the
FCC
tests all devices to make sure they meet government
SAR requirements
before being released in the US, it may be years or decades until we know for sure if there is any ill effect caused from their prolonged use. One new report by the EWG (Environmental Working Group) has done the research for you by categorizing all the SAR info for each phone (as provided by the FCC and manufacture) so that consumers can easily see what radiation levels their current phone has, as well as lists of phone by providers and manufactures.
For the Top Ten best and worst phones,
click here
. Five of out the ten best happen to be Samsung models, while five out of the ten worst happen to be from Motorola.
There are also full lists of phones by providers, including
AT&T
,
Boost Mobile
,
MetroPCS
,
Sprint
,
T-Mobile
, and
Verizon Wireless
.
We hope that they continue to update their site as new phones are constantly being released.
source:
EWG.org