The Dictator: Wadiyan Games app hits iTunes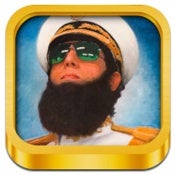 Sacha Baron Cohen's
The Dictator
is one of the most anticipated comedy films in 2012, and it's hitting theaters in just over a week, but the official game is already here and you can get a taste of General Aladeen, the main character, right now. The plot centers around the fictional country Wadiya where Cohen plays a dictator who then goes to America. From there on, an uncontrolled chain of events brings up the funny side of stereotypes about terrorists, dictators and religious fanatics.
But back to the game, the Wadiyan Games is built around a part of the movie where General Aladeen hosts his own Olympic games and... no doubt, he wins 13 gold medals. You get to step in those shoes and try a dictatorial run in the Wadiyan Games in the General's four favorite disciplines - running, swimming, fencing and boxing.
The title is available for iOS only, and it looks very basic, but still entertaining. Plus, it will keep your hunger for seeing the movie for the coming week, so check it out below - it's free.