The BIG selfie comparison: Galaxy S10+ vs Pixel 3, LG G8, iPhone XS Max, Huawei P30 Pro, OnePlus 6T
38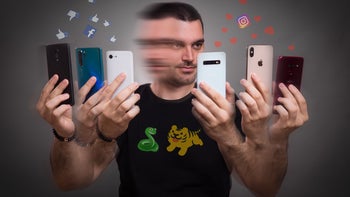 From being recognized as word of the year back in 2013 to becoming one of the main things we use our phones for, selfies have definitely come a long way. Phones these days are naturally very well-equipped to shoot a prize-worthy selfie for Instagram or what have you, but simply "good" is lo longer good enough.
We've rounded up a slew of recent flagships that are totally the creme of the crop these days, and just as you might imagine, we've pitted them one against the other to see which one shoots the very best selfies!
What devices did we choose? Our venerable round-up consists of the Samsung
Galaxy S10+
, Google Pixel 3, LG G8, Apple
iPhone XS Max
, Huawei P30 Pro, and the
OnePlus 6T
. Truth is, these are among the very best phones you can buy at this moment, and a selfie comparison between all of these will be quite intriguing.
Scene #1
Regular daytime selfie


Our first selfie is a regular one - no deliberate HDR, no portrait shenanigans, just our lad George Zarkov and six great flagships. A showdown for the ages!


Crops
Google Pixel 3:
8/10
The Pixel has produced a rather likable selfie in this scenario. As evident in the 100% crop, the Pixel is second only to the
Galaxy S10
+ in terms of details and their quality. This selfie is slightly on the underexposed side, making for a darker style, which is not bad, but a flatter look that would allow the user to further post-process the picture would have been a better choice. The background is well-exposed, but there's no bokeh.
Samsung Galaxy S10+:
9/10
Excellent selfie! As you can see in the crop above, there's an exorbitant amount of details here which are very clear and don't appear fuzzy. The exposure of the picture as a whole is excellent, and so are the colors - realistic and very true to real-life. There's a decent amount of shadows and highlights preserved on George's face, which greatly helps with the definition of his facial structure and features. The background is well-exposed and also has that appealing light bokeh effect that looks natural. Overall, the S10+ makes a rather strong case for its selfie performance from the get-go.
Apple iPhone XS Max:

8
/10
The exposure here is spot-on, and so are most colors... with the exception of George's face. I like the selfie, but the iPhone has slightly skewed the color spectrum of the face towards the warmer part of the color spectrum and eliminated most of the highlights and shadows, ensuring for a flattened look that lacks depth. As seen in the crops above, the iPhone's "beautifying" algorithms have done away with some details, which is cool because George's skin looks extra snazzy. The bad thing here? The user has no say in whether the beatification is enabled or disabled.
Huawei P30 Pro:
5/10
There's nothing inherently wrong with the Huawei P30 Pro's selfie, it simply doesn't pop up. Details are okay, but colors are a bit bleak and lackluster in terms of vividness. The face is too white, making George look like a porcelain figurine from a china shop.
LG G8:
5.5/10
There's lots of detail in the LG G8 selfie, but most of it is a bit fuzzy - check out George's eyebrows in the crops above and compare it with the rest of the selfies. The color reproduction is great, and as a whole, this selfie is good and definitely shareable to social media.
OnePlus 6T:
5.5/10
Lackluster details and uninspiring color reproduction - those two are quite representative of the OnePlus 6T in this here scene. The phone doesn't do anything inherently bad, but doesn't shine in any aspect either, culminating in a rather forgettable selfie.
Scene #2
HDR selfie

In this particular scene, we wanted to test out the HDR capabilities of all devices in this scene with a rather diverse dynamic range. Ideally, we'd have my colleague Victor's face well-exposed whereas the background wouldn't be overblown and would keep its pastel sunset hues.
Right off the bat, the Google Pixel 3 has done the best job in terms of HDR, preserving both colors and the distinct shapes of clouds in the background. There's also lots of detail here, as well as a rather true-to-life color palette that's neither too yellow nor too blueish. However, there's just too much over-sharpening and contrast here, which I don't particularly like as it makes Victor's face overly dramatic and unnecessarily-grim. It's a specific aesthetic that you might love, but that selfie is not that likable. Victor agrees.

Samsung Galaxy S10+:
8/10
The Samsung Galaxy S10+, on the other hand, hasn't gone overboard with the HDR here. Sure, the background might not be as well exposed as on the Pixel 3, but it has done a better job at what's important here - exposing the subject's face. Victor's face appears a bit more lively and warmer bordering with oversaturated. The overall sway towards warmer colors has also made the sea appear a bit greenish.
Apple iPhone XS Max:
7.5/10
Overall, this selfie is a bit flatter than the rest. The subject's face is slightly underexposed and could use some extra pop in terms of post-processing. Most of the highlights are burnt, especially in the upper-right area of the picture. Detail is okay, but there's a bit too much beautification going on here - zooming onto Victor's side reveals way less wrinkles than usual.
Huawei P30 Pro:
7/10
From the looks of it, the Huawei has a rather similar color-processing to the Galaxy S10+, with both devices producing similar-looking selfies. However, there's a bit more detail in the Huawei P30 Pro selfie.
LG G8:
4/10
Overblown skies, but a well-exposed face - the G8 failed this HDR test, yet it exposed the face correctly. On the upside, detail is aplenty, and the colors of Victor's face are not half-bad.
OnePlus 6T:
2/10
An awful selfie that looks like a sloppy Photoshop job. Victor truly is a saint, but we don't need to see the sacred halo around his head. Also notice the artifacts in the right portion of his head - just plain bad! The phone does get a few points for accurate representation of the background.
Google Pixel 3:
7.5/10
A lovely pic with tons of details and nice color reproduction. Wrinkles, moles, you can see it all. I don't like that it's a bit too under-exposed and the excessive contrast rubs me the wrong way.
Samsung Galaxy S10+:
8/10
I like this one the best. It has the most accurate colors - neither too blue nor too yellow, great overall exposure that maintains lots of visible details in the shadows, and finally, excellent skin colors. We could have used some more detail though.
Apple iPhone XS Max:
5/10
The iPhone has once again rendered our faces too flat and boring thanks to a beautification process that has smudged most of the details alongside with the highlights and shadows that define our facial features. We promise we don't look that yellow in real life.
Huawei P30 Pro:
5/10
Similar to the iPhone, the P30 Pro comes forth with an overly-warm photo. Details, especially on my face, appear quite smudged, whereas Victor's face is okay. He is smiling, therefore he probably likes what he's seeing in the viewfinder. I don't.
LG G8:
3/10
Great detail, awful colors. The purple tinge is inexcusable and rather horrible. Keep this out of my social media!
OnePlus 6T:
5/10
Our faces look a bit lifeless and two-dimensional here. There's hardly any detail across our porcelain-skin faces - not good!
Victor, a shark, and portrait mode. What could go wrong? Turns out, a pair of rimless glasses could end up being the proverbial
Google Pixel 3:
7.5/10
This would have been another exceptional portrait by the Pixel 3 if it hadn't botched Victor's glasses like that. The color reproduction and details are exceptional, the background separation is good, the bokeh is pleasing to look at, and if we abstain from the botched frame of the glasses, this one would have easily taken the cake. However, we can't.
Samsung Galaxy S10+:
8/10
We get lots of details here, as well as that signature Samsung face pop-up, which makes portrait shots that much more likable. The overall exposure is a bit on the overly-bright side, which is not necessarily bad, and Victor's eyes look extra green today! Notice how the glasses' frame on the right is not botched by the faux bokeh.
Apple iPhone XS Max:
6.5/10
The iPhone has produced a selfie very similar to the Galaxy S10+ one, with comparable colors and exposure. The dynamic range of the face is a bit flatter, with the highlights on Victor's nose and left cheek slightly toned down and on the warmer side. The glasses' frame has been botched here as well, which deduces one point from the XS Max' total tally. Details are acceptable, but disappointing - look at the eyebrows and the five o'clock shadow.
Huawei P30 Pro:
6.5/10
The Huawei P30 Pro has done a good job at capturing facial details here, while simultaneously messing up the notorious frame of the glasses. Tsk tsk. Still, the background is pleasantly-blurred with just the right amount of bokeh, and the colors are quite appealing. Still, detail is not as crispy as on the Pixel, and the colors could have been more vivid.
LG G8:
7/10
The LG G8 has taken a rather good selfie portrait here. The overall color palette is on the warmer side, with some of Victor's facial features being a bit too red. Details are okay; background bokeh isn't as pronounced as on the other phones.
OnePlus 6T:
4/10
This one has some issues, namely Victor's leather jacket which turned from brown to nearly black, as well as the overly cold colors.

I deliberately took this selfie under an incandescent red light, and the results will shock you! Okay, maybe not.


Crops
Good job by the Pixel 3. Despite the intrusive red cast, the phone has tried hard to mitigate the crimson tinge. My features are well-defined and my face is well-exposed, however detail appears a bit blurred. Meanwhile, the background is sharp and colorful. A very good low-light selfie.
Samsung Galaxy S10+:
3.5/10
The Galaxy S10+ has overexposed my face, making me look like a bedsheet ghost. Details are non-existent, my facial features are somewhat smudged and separated harshly. Not good.
Apple iPhone XS Max:
1/10
Not a selfie I'd share on social media.
Huawei P30 Pro:
5.5/10
The P30 Pro has done a good job here, adequately capturing the ambient lighting in the background. The details are a bit muddy and my face is slightly under-exposed, thus earning it a score of 5 out of 10.
LG G8:
4.5/10
Despite being well-exposed, I am not really a fan of the colder colors in this selfie. Still, it does a good job at conveying the overall atmosphere.
OnePlus 6T:
7.5/10
The OnePlus 6T has decided not to downplay the strong red tinge over my face, and has actually embraced it! I like this one a lot. There's lots of detail and great casts in the background. Definitely an Instagram-worthy picture, and my personal favorite among the six entrants here.
Scene #6
Low-light selfie with flash
Google Pixel 3:
7.5/10
My face is well-exposed and we can see superb detail in this Pixel 3 selfie. However, the cast of the flash is a bit on the colder side.
Samsung Galaxy S10+:
2/10
The overly-strong flash of the Galaxy has not only washed out the selfie, but also given an unnatural reddish cast to my face. I don't like that.
Apple iPhone XS Max:
7/10
The iPhone's True Tone flash has done a great job here: my face looks well-exposed and very natural in this particular selfie. However, detail is a bit fuzzy.
Huawei P30 Pro:
6/10
Huawei's yellow flash did a good job at lighting my whole face. However, lots of my facial imperfections have been smudged out, and my face as a whole looks a bit blurred.
LG G8:
4/10
Just like the Pixel, the LG G8 has produced a very cold-looking selfie, making me look quite pale and the polar opposite of handsome. Not a fan of that "Nivea cream all over my face" look.
OnePlus 6T:
9/10
A very pleasant surprise from the OnePlus 6T! I have to admit I didn't expect it to actually ace this test, but that's the truth - the OnePlus 6T selfie with flash is the best one I took that night. Excellent skin colors, good exposure, and tons of detail. Overall, a lovely selfie that beckons to be shared on
the Gram
.
Final score
Google Pixel 3: - 43.5/60


Samsung Galaxy S10+: - 38.5/60
Huawei P30 Pro: - 36/60
Apple iPhone XS Max: - 35/60
OnePlus 6T: - 33/60
LG G8: - 28/60




Conclusion
You saw the pictures, you read the mini-reviews for each one, you saw the final score, and it's now time to wrap it all up.
The Pixel 3 aces this test, and despite its hiccups in a couple of scenes, it easily bested all other phones. The immense amount of detail and great color rendition, as well as the excellent HDR capabilities of the selfie camera make this one the selfie taker's best bet right now. Still, there's some spare room for improvement, namely in the portrait and selfie flash aspects of the selfie camera. If Google addresses those, the Pixel 4 generation will make a very strong case for itself right from the get-go.
The Galaxy S10+ is once again a bridesmaid and not a bride. There's lots of room for improvement here. The same applies to the P30 Pro - despite its intriguing rear-camera capabilities, the front-facing camera has been left on the backburner, and despite its laudable performance in some situations, the phone didn't impress much. The iPhone XS Max did a good job on its own, but couldn't best the Android crowd this time around. The OnePlus 6T couldn't win me over with its questionable color science and HDR capabilities, but it bested the low-light challenges, which is something! Finally, the LG G8 disappointed me with its lackluster performance.