The Apple tribe kidnapping manpower from the RIM clan
2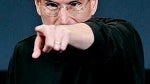 Trying to beat RIM at their own game, Apple has been on the hunt for its salesmen, and, more precisely, the enterprise salesmen, yanking a bunch of RIM employees in the past year and a half. Interestingly enough, when Steve Jobs was not trying to belittle Android's activation numbers, he was busy dissing RIM's market share at
Apple's latest conference call
. Maybe it has something to do with the fact that RIM just refuses to give up, on the contrary - its profit margins are
second highest in the industry
, after Apple's, and it's planning a
pretty cool tablet
to take on Apple's iPad.
Granted, most of RIM's success is due to the cult-like following its BlackBerry line has established among business and government employees, but also unique software and security features such as BBM and corporate-grade email service. All in all, it is a vertical integration approach, not unlike Apple's, which must be annoying Cupertino to no end.
If you can't beat'em, join'em, is what Apple's been thinking when hiring not one or two, but five former RIM employees, and all of them have gone straight to the enterprise sales division. One of them, Geoff Perfect, has moved directly from being Head of Strategic Sales for five years at RIM, to heading the iPhone Enterprise Sales division.
We have no doubts these guys will be successful, considering their track record in selling cell phones to businesses, and, moreover, they have probably brought their customer accounts and networks with them. This move might have been why major businesses like banks and investment companies have decided to ditch RIM's hardware for iPhones and iPads recently.
source:
WSJ
Recommended Stories