BlackBerry PlayBook featured in Black Eyed Peas music video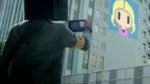 In its continued quest to be cool,
RIM
has placed their upcoming
BlackBerry PlayBook
tablet in a new music video from the Black Eyed Peas. The video, "The Time (Dirty bit)," is a remake of "(I've had) The Time of My Life," by Bill Medley & Jennifer Warnes. You might remember it from the Patrick Swayze film, 'Dirty Dancing.'
The
PlayBook
is featured as Will.I.Am totes it around town, and various animated videos of his bandmates appear on its screen. Unfortunately, there's no showcasing of the PlayBook's actual user interface. Then again, swiping through your emails probably wouldn't connect with the Black Eyed Peas' target audience.
Mobile technologies have been enjoying some rampant product placement as of late. The
Windows Phone 7
OS from Microsoft has already found its way into a number of network shows, and did so with little to no subtlety. By comparison, this placement by RIM is tasteful, and appealing. You can clearly see the 'BlackBerry' moniker on the bottom of the device, but they didn't ask the artists to sing about it.
RIM, despite its worldwide popularity, is rapidly
losing ground
to the offerings of both Google and Apple. If they want to stay in the game, they have to regain the attention of the average consumer, rather than depend on their corporate clients to keep them afloat. Given this tasteful guest appearance, we look forward to seeing how they market the
PlayBook
to other demographics.
source:
Dipdive
via
BerryReview
Recommended Stories