The Apple iPod celebrates its 15th birthday today
13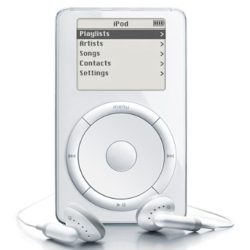 Had the Apple iPod not become the huge success that it turned out to be, would Steve Jobs had turned his attention to mobile phones? That is a point that can be debated (just don't call the device a nasty MP3 player). Regardless of what you believe, the fact is that on October 23rd 2001, 15 years ago today, Apple introduced the iPod. This changed the face of MP3 players forever. At the same time, it changed the face of Apple forever. The company became a huge consumer product company instead of a computer manufacturer with a static market share.
Still, it wasn't until iTunes was launched in April 2003 that the iPod became a huge seller. With iTunes, iPod users could quickly buy a song, sync the iPod to their desktop machine, and be playing that song on the iPod in seconds.
When
the Apple iPhone was unveiled in January 2007
, Jobs at first called it the best iPod ever thanks to new features like a Touchscreen and Cover Flow. In fact, originally iPhone users had to press an iPod button at the bottom of the screen to access their music. And one of the original television ads for the iPhone shows how one gets to their music on the phone. The opening words of that ad say, "There's never been an iPod that looks like this." On September 5th, 2007, Apple introduced the
iPod touch
. This was a touch screen device similar in appearance to the iPhone, but without the cellular capabilities. This became the most popular iPod model of all time.
At 15, the iPod has been pretty much replaced by the smartphone. As some of you already know,
the iPhone wasn't the first attempt to replace the iPod with a cellular handset
.
The first smartphone to come with iTunes integration
was the
Motorola ROKR E1
,
unveiled in September 2005. On the day it was introduced by Steve Jobs, the handset failed to work smoothly which left Apple's CEO seething quietly on stage (even though he placed the blame on himself). The failure of the ROKR E1 gave Steve Jobs the confidence that Apple could produce a better handset with iPod capabilities.