Did you know that the first "iTunes phone" presented by Steve Jobs was not an iPhone?
18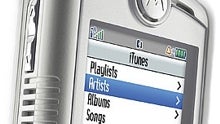 While
the 2007 iPhone
was Apple's very first smartphone, it was not the world's first handset to come with iTunes. Almost three years before launching the iPhone, in the summer of 2004, Apple announced an agreement to "bring iTunes music player to Motorola's next-generation mobile phones." Thus, in 2005, the
Motorola ROKR E1
was born, and Steve Jobs proudly presented it in September that year as "the iTunes phone." But don't just take our word for it, there's a video of the presentation embedded below.
In Steve Jobs' words, the Motorola ROKR E1 was "pretty cool", offering "an iPod shuffle right on your phone," and "built in stereo speakers that are quite good." Users were able to store up to 100 iTunes songs on the handset, which had a dedicated button for instant access to the iTunes player.
iTunes aside, the E1 featured a 1.9-inch TFT color display with 176 x 220 pixels, a VGA camera, and microSD card support. The Motorola ROKR E1 with iTunes was exclusively sold by Cingular (now AT&T) for $249.99 (with a two-year contract agreement), and wasn't exactly a success.
Eventually, Apple and Motorola ended their partnership before the first iPhone model was announced in January 2007.
reference:
Apple