The Android revolution continues to roll overseas; BlackBerry crashes worldwide
66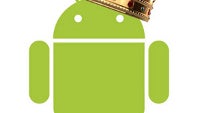 The latest smartphone sales data for the three month period ending in May has been released by Kantar Worldpanel ComTech and it shows that BlackBerry is facing some very difficult times globally. At the end of May, the Canadian manufacturer saw its share of the U.S. smartphone market drop by an
amazing 85%
from the year earlier to just .7% of the market from a 3 month average of 4.6% the previous year. Most of BlackBerry's lost share was picked up by the Apple iPhone. More on BlackBerry later.
The Apple iPhone's stateside market share rose 3.5 percentage points over the year to end May with a three month average of 41.9%. While Android remained on top in the U.S. with a three month average share of 52% at the end of May, its lead over the iPhone has dropped from 13.5 percentage points in 2012 to 10.1 percentage points. Kantar says that the reason for the strength in the iPhone's numbers in the U.S. is due to the
addition of T-Mobile as an authorized Apple iPhone seller
.
"Across Europe, Android growth remains strong. However, in the US Apple's expanded distribution agreement with T-Mobile is helping the iPhone keep Android growth at bay. T-Mobile is the smallest of the big four US carriers but it does have the capacity to give iOS a boost, particularly as 28% of its customers plan to buy an iPhone when they next upgrade."
-Paul Moore, global director, Kantar Worldpanel ComTech
Around the world, the Android Revolution is on, especially in Europe. In countries like Italy (69.2%), Spain (92.5%!) and Germany (76.7%), Android dominates the smartphone market. In the five European countries tracked (Italy, France, Spain, U.K. and Germany), Android averaged a
70.4% market share
for the three months ending in May with iOS trailing badly with a 17.8% slice of the pie.
Based on the data offered up by Kantar, BlackBerry is in big trouble globally, not just in the U.S. In the U.K., considered a friendly environment for the platform, its market share tumbled from 12.6% to 5.3% year over year. Other countries saw even heavier declines. In Spain, BlackBerry's market share plunged from 32.3% to 11.3% for a 21% drop over the year.
Sony showed some strong momentum in the U.K. thanks to the
Sony Xperia Z
. Kantar's data shows that 38% of Sony owners in the region came from a Samsung device, mostly the
Samsung Galaxy S II
. In Mexico, Windows Phone saw its market share
triple
over the year to 6.6%, led by the
Nokia Lumia 505
which was the fifth best selling handset in the country over the three month period that ended in May.
source:
KantarWorldpanel
via
BGR