The 6GB RAM Vivo Xplay 5 runs quicker than the iPhone 6s in the latest video comparison
34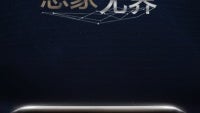 The name Vivo probably isn't unfamiliar if you are outside of Asia, but in its Chinese domain, Vivo ranks among the country's premium domestic brands (such as Huawei). The company has an upcoming flagship phone in the works, the Vivo Xplay 5. This will be the world's
first handset to feature 6GB of RAM
, probably thanks to the LPDDR4 RAM modules that Samsung has had prime and ready for manufacture since late last year.
Vivo is about to launch the Xplay 5 on the 1st of March, and by the looks of it, it's going to be a China-only affair. Vivo has been teasing the device prominently on its Weibo account and we've seen it make rounds in the AnTuTu benchmark database a couple of times, available in 4GB and 6GB RAM variants. The newest Xplay 5 sighting is definitely one to behold, though. It's a new video that's just been posted on Weibo, comparing the speed of the Vivo XPlay 5 to that of the renowned speed demon that is
the iPhone 6s
.
The video, which is embedded below, shows three phones. One of them is the iPhone 6s, and the other two are Vivo phones, with the Vivo Xplay 5 placed between the two. It shows that the Xplay 5 opens the Messages app faster than the others, and we can clearly see that the smartphone's interface has a similar look to iOS. It looks like the Snapdragon 820 and 6GB of RAM make for a genuinely powerful combination.
The rest of the Vivo XPlay 5's spec sheet is equally supercharged. The smartphone has a 5.5-inch, 2k-resolution display and comes with 64GB of storage, although we don't know if it's eMMC or UFS. We'd bet on the latter, given that Samsung's UFS storage is readily accessible to ambitious manufacturers worldwide. The Xplay 5 runs the latest Android Marshmallow out of the box, and features a 16MP rear cam / 8MP front cam setup. Moreover, the handset has a dual-curved screen, just like
the Samsung Galaxy S7 edge
.