The 128GB version of the Samsung Galaxy Note5 might not be dead after all
47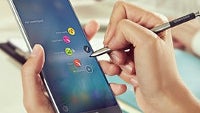 After months of leaks and rumors centered on the
Samsung Galaxy Note5
and the
Galaxy S6 edge+
, today's official announcement came with little surprises for those who've been keeping a watchful eye on our news section. In fact, probably the only thing that we did not expect was for Samsung to omit the 128GB versions of the devices from its announcement, announcing just two internal storage sizes, 32GB and 64GB.
As it turns out, a recent discovery shows that not all hope is lost for power users, as pre-order listings available on Samsung's website reveal 128GB versions of the Galaxy Note5. Not only that, but the manufacturer has separate listings available for all of the four major carriers in the US, Verizon, AT&T, T-Mobile, and Sprint.
At this point, it should be mentioned that a listing on Samsung's website is not official confirmation that the 128GB Galaxy Note5 will ever be available. It would certainly be odd for the company to intentionally omit the storage version from the official product announcement only to bring it back on track for US launch alongside the 32GB and 64GB versions, but stranger things have happened.
As far as the importance of the 128GB storage size version of the Samsung Galaxy Note5 is concerned, there's room for debate. Some will surely point out that 64GB of internal storage space should suffice in the cloud storage age. On the other hand, as Samsung dropped support for microSD cards, 64GB is the top ceiling, which will surely be insufficient for some of the most hardcore users.
Based on the
Samsung Galaxy Note5 pricing and availability
information that we have at the moment, a potential 128GB version of the Galaxy Note5 will be priced at around $900 with no contractual obligations, seeing that the 128GB versions of the Galaxy S6 and the S6 edge cost $100 more than the 64GB version.