Thanks to Verizon, Apple matched Samsung's sales even before the iPhone 8
9
Despite the unique situation that iOS fans found themselves in this year, having to wait on a third, and most intriguing iPhone later in the season, Apple's mobile OS saw gains in the three-month period that ended in August. Its market share growed in key markets like the US, China, Germany, or France. In the US in particular, Samsung and Apple got neck-and-neck, with 35.2% and 35.0% of sales for the period, respectively. The reason for Apple's faster growth was Verizon, where iPhones are hitting half of all phones sold on the largest US carrier now, says research firm Kantar.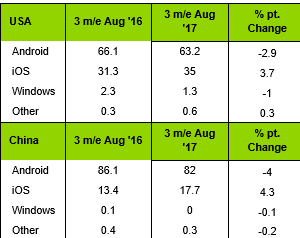 The iOS market share grew over the summer in the all-important US and China markets
When we add the runner-ups from LG, Motorola, HTC or ZTE, we can see why it's so hard for other brands, even ones like Sony, to pierce the American market, there's simply not much room left for maneuvering after Apple and Samsung take their cut. Apple also saw some unexpected growth in China, where the
iPhone 7 Plus
has been selling better than the
iPhone 7
for the first time, and it grew in market share 4% year-on-year to become the third largest smartphone seller there, after Huawei, and the Oppo/Vivo maker BBK.
The bright spot for Samsung was the UK, where aggressive promotions leading up to the
iPhone 8
announcement saw its share grow to a three-year high. This iOS growth makes us eagerly awaiting the next report for the period ending November, when the iPhone 8 and X will have had a chance to make another market share splash across the board for Apple.