Texting becomes more popular than talking in Britain, average Briton sends 50 texts a month
7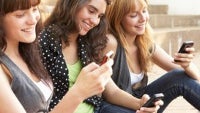 We've heard a couple of times in one form or another for the United States and now it's growing into Europe - we're calling less, and exchanging direct communication for texts and social networking. At least that's the conclusion at which British communications regulator Ofcom arrived at in its annual report after surveying UK citizens.
The youngest crowd including people from 16 to 24 leads the way and is the first switching to more text and social networking interaction. What's really interesting though is that the
average Briton sends 50 texts each week
, or more than 7 text messages per day.
Also, tablet adoption has really picked up recently and from 2% last year, now 11% to 12% of people in the UK own a tablet. That's probably even faster than the smartphone adoption. In the UK, two out of five adults own a smartphones and a record 49% of people are now on contracts. For the first time, more than a half of all phone calls were made on a mobile phone as opposed to a stationary one.
Britons spends an average hour and a half in social networks each week, The whole Ofcom report is full of interesting facts, so you can check it all out at the source below.
source:
Ofcom
via
BBC