Text before bed time and you'll have trouble sleeping
9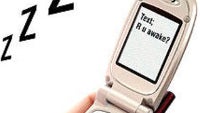 A survey conducted on 83 college students found that the more text messages they sent, the harder it was for them to get a good night's sleep. The study was written up in the
Psychology of Popular Media Culture.
Because most people sleep right next to their phone, a late night texting session usually results in a number of responses from those you are passing messages back and forth with, leading to buzzing and ringing from your phone as these replies come in. Those sounds can keep you up and negatively affect your sleep. In addition, people usually feel compelled to answer incoming texts, even at an ungodly hour.
The authors of the study suggest that before going to bed, put your phone on silent (not vibrate). And to prevent the backlight from keeping you up, the authors recommend that you flip the phone screen side down, unless you need a night light.
Over two years ago, we asked the musical question, "
Are you a sleep texter?
"
and told you that certain things (like texting, apparently) that don't require a lot of brain function, can be done in your sleep
. This is a different, but related issue to the inability to get a good night's sleep if you text before bed. In this case, the solution is to move your handset out of reach before bedtime.
source:
APA
,
Today
via
betabeat
,
Textually.org