Are you a sleep texter?
14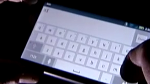 Most people are familiar with sleep walkers, but the latest thing is sleep texters. A story on Indiana's Channel 6 News web site says that some Indiana residents are
tapping out text messages and holding conversations in their sleep
. According to Dr. Adam Fisch, a sleep specialist at St. Vincent Hospital, people can perform "complex" activities while sleeping. He adds that certain things don't require a lot of brain function, and such activities (which apparently includes texting) can be done while asleep. One such sleep texter, Nicole Fisher, says that she holds conversations while texting in her sleep, but doesn't remember them in the morning.
Doctors say that
this can be a sign of a sleep disorder
and Dr. Fisch suggests that those who text in their sleep should see a Doctor. Sleep texter Fisher says that the real harm is the embarrassment that sometimes occurs the next morning when you are called on to explain a text that you composed and sent in your sleep. To avoid sleep texting, experts say that those affected should create a safe sleeping area and make sure that any cell phone is
moved far from reach
. And if you do suffer from this, don't think you're alone. There is a Facebook page dedicated to Sleep Texters which has over 1,000 members.
source:
TheIndyChannel