Texas Govenor Perry tosses away an Apple iPhone at Motorola Moto X facility
72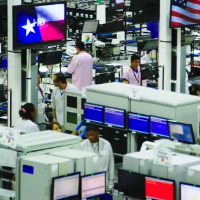 "It does cost a little bit more to make the product here, but not so much more that it changes the overall economics. And we think over time we'll recoup that investment, because we'll be able to improve the productivity of the plant much faster, and also improve our designs much faster."
-Dennis Woodside, CEO, Motorola
The most dramatic part of the tour involved the CEO of...Texas. Governor Rick Perry was on hand, along with Google Chairman Eric Schmidt, for a tour of the facility. Perry did something that will endear him to legions of Android, Windows Phone and BlackBerry owners. After being told by Woodside that he was getting a Motorola Moto X phone of his own, the Governor tossed his iPhone onto the floor. Perry might not get the Apple vote for the next election, but if the area near the plant has an economic reversal, he will win the hearts of many more voters in the region.
source:
Engadget