Temple Run games reach 1 billion download plateau
3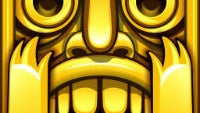 There aren't too many games that reach the 1 billion download plateau. Rovio's
Angry Birds series
of games reached the 1 billion download mark back in 2012, and while the series hit
1.7 billion downloads
last year, Rovio never came back saying that the original Angry Birds game alone ever reached the mark. Now, Imangi Studios has announced that its Temple Run games have reached the same 1 billion download mark.
Although, it seems as though Imangi is only counting Temple Run and Temple Run 2, not the Disney branded versions - Temple Run: Oz and Temple Run: Brave. Imangi is counting all of the downloads across Android, iOS, and Windows Phone for the two games though. In addition to the download numbers, Imangi is giving out some demographics info as well. Apparently, 60% of players are female, but it is unclear how Imangi got that data. Imangi has also said that the game is most popular in China, which has accounted for 36% of downloads, with the US in second place with 21% of all downloads.
The game is clearly very popular, and has been popular enough that there is a
movie planned
which will be based on it. Of course, movies based on video games don't have such a great track record, so we're not holding out much hope on that.