Temple Run could be getting the Hollywood treatment
7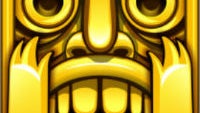 No, you didn't misread that headline. We're not saying that Temple Run is getting a cartoon deal, or a kid's TV show, or even a run of merchandise (beyond the board game that already exists). There is a new report that says the endless runner game could soon be in the works as a full Hollywood blockbuster. Temple Run has had a couple movie tie-in versions of its game made by Disney - Temple Run: Brave, and Temple Run: Oz.
Of course, going from the big screen to a mobile game is fairly easy and done all the time. Making the jump the other way is extremely rare. The only other mobile game to even start towards being made into a movie is Angry Birds, which is a game that has been an international sensation and has far more brand awareness (through a crazy amount of merchandising) than does Temple Run.
But, Temple Run has a big name producer attached - David Heyman, who was a producer on all eight Harry Potter movies, as well as
I Am Legend
and
Gravity -
and it has the backing of Warner Bros. studio. Not surprisingly, the movie would be about a man who steals an idol from a temple and then is chased by "demonic forces". So, it's basically planned to be a 90-minute version of the opening scene to
Raiders of the Lost Ark
.
Still, the project doesn't have a writer, a script, a director, or a cast; so, there's only a limited chance it will actually get through to production and release.