Tegra 3 on track to be NVIDIA's most valuable business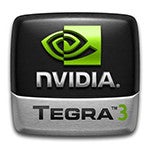 Chip maker NVIDIA is perhaps best known for its stand-alone graphics cards, which they sell to professional graphic artists and hard-core gamers alike. These and other PC components, including lower-cost laptop and desktop GPUs, and motherboard chipsets have long been the mainstay of NVIDIA's revenues. Now an analysis by Forbes shows this changing quickly, and demonstrates the importance of the mobile sector to the silicon fabricators of the world.
Forbes' main interest is what drives stock price of course, and they currently peg the NVIDIA's mobile business as representing about a third of NVIDIA's roughly $21 per share price. That's not to say it makes a third of NVIDIA's profits, but rather that as the fastest-growing part of their business investors are assigning more importance to it. Of course NVIDIA also cares about its stock price, and right now its traditional strongholds are looking at a bleak forecast. As PC sales stagnate Forbes sees NVIDIA's chipset business shrinking, with standalone desktop and professional GPUs expected to barely hold their own over the coming half decade.
In contrast, Forbes sees NVIDIA raking in $800 million this year from mobile, and double that by the end of 2013. Given that rate of growth, they feel that Tegra 3, and certainly Tegra 4 will become the most valuable driver of stock price in NVIDIA's arsenal of products in the very near future. Of course NVIDIA didn't just happen into a new market waiting to be discovered; they are in a knock-down drag-out fight with various other ARM chip vendors, including Texas Instruments, Qualcomm, and to a lesser degree Samsung. And don't forget that Chipzilla itself - Intel - has set its sights on taking a
decent chunk
of the mobile chip market over the next few years.
It's not clear yet whether in the long term the mobile chip market
can support
so many players – the PC market could not, so many of these companies are fighting to retain the biggest growth industry in chip making.
In the short term this should drive a dazzling amount of innovation and price reductions
(think:
$199 Kai tablets
), so as a consumer you can sit back and enjoy the fruits of this competition, because they are playing for keeps.
source:
Forbes