Nvidia unveils Kai tablet platform: Tegra 3 Android tablets for $199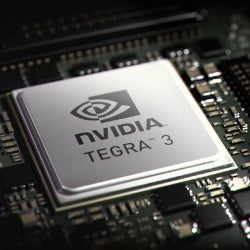 The $199 tablet came to reality with the
Amazon Kindle Fire
. Kind of. It wasn't a full fledged tablet, but more of a gateway to Amazon's ecosystem. Half a year after its release, the industry is starting to finally prepare for the first tablets that will offer both a fully functional platform with no limitations and a reasonable price tag.
The
Samsung Galaxy Tab 2 (7.0)
already set the mark high with the latest Android ICS on board and a dual-core processor, but now Nvidia is unveiling something even better - the
Kai tablet platform
that will bring quad-core Tegra 3 into the $199 price zone.
Nvidia's chief executive Jen-Hsun Huang spoke about nearly two months ago promising the first cheap Tegra 3 tablets this summer. But while we didn't have the details then, now VP Rob Csonger lifted the cover off the idea to bring Tegra 3 to the masses:
Our strategy on Android is simply to enable quad-core tablets running Android Ice Cream Sandwich to be developed and brought out to market at the $199 price point, and the way we do that is a platform we've developed called Kai. So this uses a lot of the secret sauce that's inside Tegra 3 to allow you to develop a tablet at a much lower cost, by using a lot of innovation that we've developed to reduce the power that's used by the display and use lower cost components within the tablet.
So far, this seems like a reference platform and the slide shown below clearly reminds us of the Asus ME370T, a Tegra 3 tablet carrying a $250 price tag. Will this be the first device with the new Kai platform? We can only guess until the summer. Coincidentally, that's exactly when
Google's Nexus tablet
is supposed to come out as well, so stay tuned.