5 to 10% of phones will run on Intel chips by 2015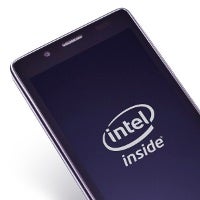 Here's an interesting prediction coming from none other but ARM's chief executive officer Warren East -
Intel will hold 5 to 10% share of the mobile market
by 2014 or 2015. That's not a lot, and that's where ARM's top manager sees an opportunity. While Intel is trying to get traction in mobile, ARM at the same time expects to have a share of between 10 and 20% in laptops by 2015.
So far, the biggest disruption that's expected to happen soon is the release of Windows 8 and Windows Phone 8. Microsoft's desktop platform finally supports ARM architectures, and the WP8 launch might be a good opening for Intel to step in.
Of course, there's still two years and a half for things to adjust, and a 10% market share now seems like a very generous estimate, coming from the mouth of the CEO of the dominant mobile chip maker.
So far, we've only seen devices like the Lava Xolo X900 released in India and other limited markets arrive with an Intel chip. Initial tests show that the hardware is definitely on par with the current crop of ARM devices, and it even
manages to get reasonable battery life
, so that's definitely a great start for Intel. Would you personally get an Intel-powered smartphone?