Teardown shows that Moto X costs about $221 to build
37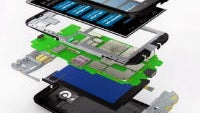 There has been a lot of chatter about the Moto X and the hardware used in Motorola's new flagship device. Some think that the innards are mid-range, even though the performance of the device slides into the
higher bracket
because of the way Motorola has melded the software and hardware. Well, from a strictly dollars and cents perspective, the Moto X clocks in just under the Samsung Galaxy S4 on cost to build. Or, by now the two may be about on par.
According to a new report by IHS, the Moto X costs $221 to build, which is just $16 less than what the cost was
estimated for building
the Samsung Galaxy S4 back in May. Oddly, IHS is estimating the Moto X's X8 SoC to have cost about $32 to $33 ($28 for the modified Snapdragon S4 and $4 to $5 for the two companion cores built by Texas Instruments), which makes the SoC more expensive than the Samsung Exynos Octa which was estimated to cost $28 back in May. But, Motorola was able to save a bit by going with a 720p display, which cost $62.50, compared to the $75 Samsung paid for the 1080p S4 display.
But, Motorola also paid a premium on the actual assembly of the device, which is estimated to cost about $12 per unit. Devices assembled in Asia are said to cost about $7 to $8 each to manufacture.