Teardown of Google Nexus S reveals not so contour display
3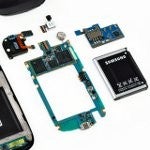 Well, well, look what we have here. The
Google Nexus S
just came out yesterday and it was swiftly torn apart by the curious folks from iFixit. Under the hood of the latest Android flagship, the crafty crew found out a lot of interesting things about the touted "
Contour Display
" and the overall repairability of the Nexus S.
Let's start off with the "Contour Display" technology. For all of you expecting a nicely curved LCD – that's not the case.
Only the glass
is curved, while the LCD and touchscreen below it are flat as in any other handset. True to the facts given by Samsung actually, but a bit misleading with all the buzz around it.
How will the Nexus S handle
repairs
? It ranks well with a score of 7 out of 10. The main issues seem to be that the display is hard to separate from the frame and that if you have problems with either the LCD or the glass, you will have to replace both as they are fused together. For everything else, a #00 Phillips screwdriver and some plastic opening tools will do.
Other highlights of the teardown include a very
capable battery
, with talk time supposedly reaching up to 6.7 hours on 3G, slightly higher than the iPhone 4. Unfortunately, AT&T's 3G data frequencies are not supported on the phone, so if you plan on using it with the nation's second largest carrier, 3G will be out of the question.
For all the other insides of the latest Android powerhouse and for its
unique motherboard design
, take a look at the step-by-step instructions below. Oh, and in case you forget – don't feed the battery to babies (as you are warned by an actual sign on the battery).
source:
iFixit