Tear down of LG G3 shows it to be easy to fix
7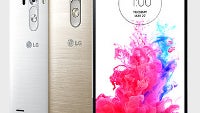 The
LG G3
is the latest flagship model to be released, and already the phone has been taken apart. It was all done for a reason of course. UBREAKIFIX.com was behind this "reverse engineering" merely to test how easy or hard it is to repair the phone. The verdict? The LG G3 is easy to fix, according to the smartphone repair company.
Unlike many of today's flagship handsets, the battery is replaceable. That makes it easier to gain access to certain areas of the phone, and allows you to swap cells by simply popping out the old one, and popping in the new one. And unlike the
LG G2
, which featured "
a controller board split along both sides of the motherboard
," the LG G3 has an improved motherboard with just one small daughterboard. The Asian version of the LG G3 is equipped with a television antenna, not a usual component in that region, and a part that most likely is not on the U.S. version of the device.
According to UBREAKIFIX.com, LG's use of connectors makes the phone easy to repair. The repair chain was particularly impressed with the location of the screen connectors. Overall, the LG G3 received a score of "8" out of "10" for ease of repair. Hopefully, you will never have to see if the device lives up to that score.
You can take a look at the LG G3's motherboard with a list of the color-coded components below.
(Purple) Broadcom BCM4339 5G WiFi combo chip, (Teal) Avago ACPM-7700 power amplifier module, (Red) Qualcomm WTR1625L RF transceiver
(Green) Qualcomm WFR1620 receive-only companion chip, (Orange) SK Hynix 2GB/3GB LPDDR3 RAM layered on the 2.5 GHz quad-core Snapdragon 801 processor, (Yellow) ANX7812 USB SlimPort Tx IC, (Blue) Texas Instruments BQ24296 battery charge management and system power path management chip with the Toshiba THGBMBG8D4KBAIR 32 GB on-board NAND flash memory on the other side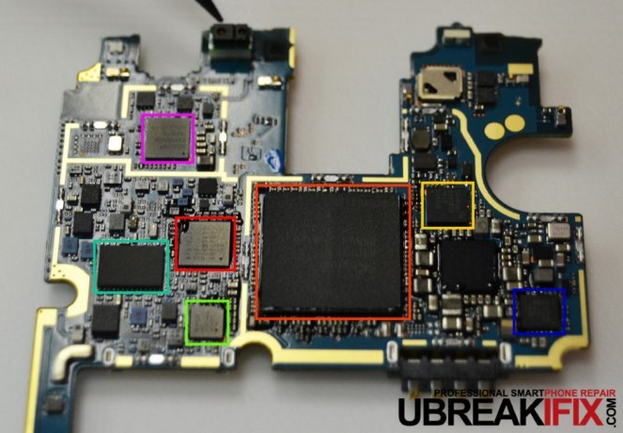 LG G3's motherboard
source:
AndroidAuthority