Teachers finding Chromebooks "much more useful" than iPads
43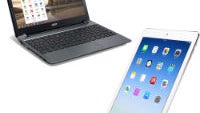 Apple has often talked about how popular iPads are in the education market, but it is looking like that may be changing. A new trend is showing that schools and teachers are deciding to ditch iPads and are choosing Chromebooks instead. Teachers are even saying that Chromebooks are "much more useful" than iPads.
Throughout the country a couple of years ago, schools adopted programs to give teachers and students iPads, but schools have consistently been rethinking those decisions. Schools have been selling back iPads and buying Chromebooks instead. The general findings are that students are more productive on Chromebooks compared to iPads; and beyond that, Chromebooks are far easier for teachers to manage because of the power of Google's cloud. It was better for schools to have data automatically backed up to the cloud, and it was easier to push apps out to students on Chromebooks "with just a few mouse clicks."
Some schools can't make the decision though, and have even been supplementing Chromebooks with Nexus tablets. Other teachers swear by the iPad, and find it to be the best tool for classrooms. The debate is still going on, sometimes within the same school. There are those who think the iPad is a great tool, but there have also been quite a few teachers who say that students see the iPad as a gaming environment, while a Chromebook is a tool for being productive.
Part of the reason for schools switching is undoubtedly pricing, because Chromebooks can be had for around $200, while an iPad starts at $399, and Windows machines aren't even on the radar. Obviously, schools can get special deals, and not pay the full retail, but that is true with both Chromebooks and iPads. In the end, schools often have limited budgets, and need to make the most of the money they have. So, that means iPads are far less appealing, and Chromebooks are getting the business.
Recommended Stories