Take that, AT&T: T-Mobile offers free unlimited data and calls to customers visiting the Rio 2016 Olympics
12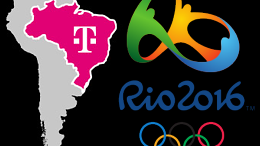 T-Mobile today announced that its postpaid customers will be able to truly enjoy the 2016 Summer Olympics (held in Rio de Janeiro, Brazil) by having access to free unlimited roaming data, free calls in Brazil and to the US, and free texting worldwide for the whole month of August.
In addition, T-Mobile is offering family members of US athletes a free
Samsung Galaxy S7 edge
smartphone, free Samsung Gear 360 camera, and free T-Mobile service throughout the Summer Olympics in Brazil. You can learn more about the new T-Mobile offers at the source links found at the end of this article.
Last month, AT&T also unveiled an offer aimed at Rio 2016 visitors, including 1 GB of roaming data - however, that's not free: it'll costs you $50 on top of what you're already paying. You can watch T-Mobile CEO John Legere announcing his plans for Rio 2016 (and bashing AT&T) in the video below:
It's estimated that about 100,000 Americans will be visiting Brazil during the 2016 Summer Olympics, so there's going to be huge amounts of data consumed. Luckily for T-Mobile customers, they won't be charged a dime for that.
sources:
T-Mobile
,
Press release
Recommended Stories