Take a look at the iPhone 5 landscape keyboard
58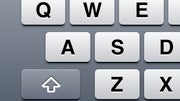 For the first time in history (if a time span of about 5 years can be considered "history"), the iPhone will come with a display bigger than 3.5 inches. Or so it is believed, judging by all those
alleged iPhone 5 parts
that have been surfacing from here and there. The next iPhone iteration is expected to have a taller, 4-inch screen with a resolution of 1136 by 640 pixels. That change will definitely result in alterations to the iOS interface, including, but not limited to
a fifth row of home screen icons being added
.
But what else will be tweaked? Well, the landscape on-screen keyboard will be wider as it will have to stretch across that taller screen with 16:9 ratio. In fact, we now have an better idea as to what it will look like, thanks to the guys at
9to5Mac
, who provided a screenshot of the landscape keyboard taken with the iOS 6 simulator. Note that the keys are wider in the new setup, which should theoretically make typing those lengthy emails even easier. The current iPhone landscape keyboard has been added to the image as well for comparison's sake. The portrait on-screen keyboard, however, is most likely going to remain unchanged.
Of course, since iOS 6 has not been finalized yet, the landscape keyboard on the next iPhone might differ from what we see in the photos, but likely not that much. We should know for sure in about a month's time, once the iPhone 5 is revealed.
Recommended Stories