Tablet based cash registers replace the old clunkers
7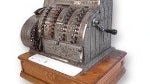 Many stores are finding out that by replacing their old cash registers with tablets, they not only improve the looks of the location, but also make it
easier
to ring up customers. Molly Moon's Homemade Ice Cream, a chain of stores around Seattle, has retired the old huge Casio registers it used to employ. Instead, the stores now use six Apple iPad slates that rest on top of a plywoord pedestal which features its logo of a dog licking an ice cream cone. Kristina McDonnell, Molly Moon's director of operations, said that, "
The new iPads are a huge aesthetic improvement over our old clunky plastic registers
."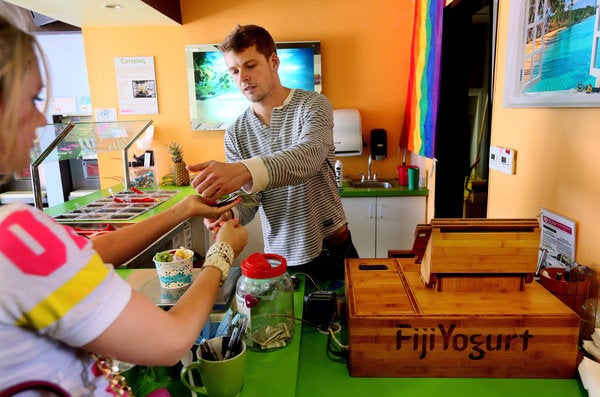 The $1,500 Cashbox is an Apple iPad converted for cash register use, enclosed by bamboo
While cash registers themselves have gone through tremendous changes, they do not offer the flexibility that tablets do. Consider Coco Donuts in Portland where Apple iPad units
hang on a track
on the wall, freeing up table space for coffee and donuts. When it comes time for a customer to settle up, an employee slides one of the tablets over to him and the transaction is recorded. In another homemade design, the Devil's Teeth Baking Company made a stand for an iPad using welded steel and wood with a base connected to a butcher block. A steel joint allows the whole thing to swivel to turn and face the customer. The bakery's owner, Hilary Cherniss, says that four times a day someone asks where the stand came from.
And many tablets being used as registers are outfitted with
Square
card swipe readers.
Square is the app that allows users to accept credit cards
for a smaller piece of each transaction than the banks take. Customers swipe their card through the reader, which attaches to a smartphone or tablet, and sign using their finger. Receipts are generated via email and credit card acceptance codes are received to make the transaction valid for both sides.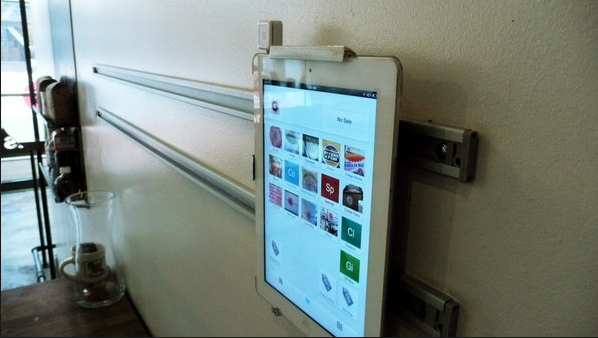 At Coco's, employees slide the iPad on a track to customers so that the bill can be paid
While the Apple iPad is the tablet used most often as a cash register, a company called GoPago is offering POS systems using Android. Meanwhile, Walmart is looking to expand a service that allows Apple iPhone users to use their camera to scan barcodes for prices of items being purchased which allows them to skip a traditional register. Besides the iPad and iPhone, Apple's own sales reps on the floor of the Apple Store use the Apple iPod touch decked out with credit card readers. Department store Nordstrom is eliminating cash registers and is also arming sales personnel with the iPod touch which allows them to ring up clients as they sit in a changing room.
And it is this freedom to move around that has many establishments excited about replacing their cash register with a tablet. By being able to carry a tablet through people waiting on line for food or merchandise, the store can ring up customers and since they have already paid, reduce the chance that they will walk away before they make a purchase.
Another benefit to using a tablet is mentioned by Parlin Jessen, co-owner of a Fiji Yogurt shop in San Diego who owns the Cashbox. This is a $1,500 bamboo enclosed iPad, set up for use as a cash register and made by Happy Owl Studio. When discussing the possibility that his workers using the tablet to ring up customers might be playing Angry Birds instead, Jessen said, "
It would be better that they're doing it on a supposed cash register instead of a phone. At least that way, it looks like they're doing work
."
source:
NewYorkTimes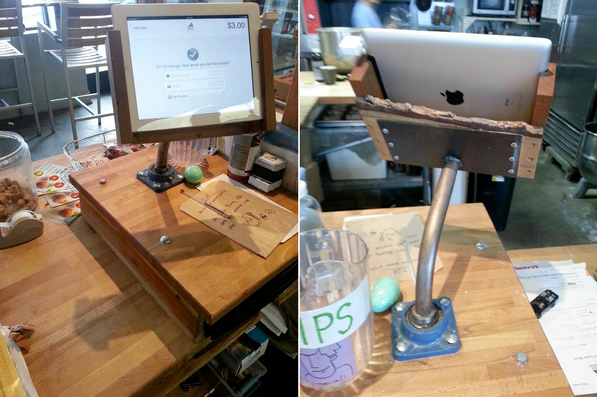 The homemade Apple iPad stand at the Devil's Teeth Baking Company gets four inquiries a day