VeriFone surrenders to Square in the mobile payment business
1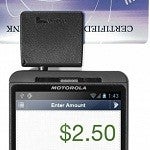 In May, VeriFone introduced Sail, a mobile payment processing solution to compete with Square. VeriFone is a powerhouse in the point-of-sale arena of services and hardware and it was expected that Sail would be a viable competitor to Square, a service that has enjoyed pretty good success.
Those perfectly reasonable expectations were dispatched at the company's quarterly earnings call. Saying that segment of business is "fundamentally unprofitable," CEO Doug Bergeron announced that VeriFone was going to divest its assets related to acquisition (of customers), risk management and billing, and offer Sail through agent agreements with banks. That would effectively remove VeriFone's liability in the service and remove the cost of acquiring customers.
What is odd is Mr. Bergeron's hypothesis that "the only possible survivors in this fundamentally challenging business model will be companies who might have an opportunity to provide other services to these micro-merchants." However, many small businesses, micro or not, use point-of-sale services in their brick-and-mortar shops and the company provides a host of other services to business and is also partnered with Isis, PayPal and Google Wallet, all of which are well positioned to not only enhance existing merchant customer services, but attract mobile merchants who want to take advantage of every opportunity to ease the flow of money coming in.
That is not to say that Square is on "Easy Street." The company has simple pricing plans for merchants which are very appealing to small and micro-sized businesses. However, customer turnover is high and volume is volatile, which translates to reduced return on investment and overall high acquisition cost. Square knows this, and is methodically expanding its services. It recently signed a major payments agreement with Starbucks and now offers Square Wallet which loosely competes with PayPal.
Nonetheless, VeriFone's exit from the segment may set the stage for other players that have been contending with similar issues. What is more interesting however, is seeing how a large, established company like VeriFone had its hat handed to it by newcomer Square, who is currently thriving in this segment. If Square can maintain its momentum on these thin margins, then it will lay the foundation to the rest of the industry that such a model can work.
sources:
Reuters
via
VentureBeat