TSMC reportedly turns down Apple and Qualcomm's $1 bln bids for exclusive chip foundry capacity
14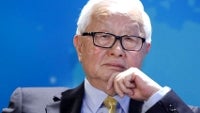 The chairman of TSMC Morris Chang you see in the thumb, has allegedly declined the grand $1+ bln bids of both Apple and Qualcomm, that wanted exclusive capacity of the chip foundry to be set aside specifically for their own custom chipsets.
TSMC's 28nm process builds the new Snapdragon S4 family of Qualcomm, that is in so many phones these days, but it can't even equip the factories with the high-precision machinery needed
fast enough to satisfy demand
this year. It recently even
broke the 3GHz barrier with a 28nm mobile chip
to showcase what the technology is capable of. Apple, on the other hand, has been trying to break away from Samsung as chip supplier, due to the legal spat between the two.
Back to TSMC, it is apparently afraid that if it dedicates a factory or two to one single client, it will have a hard time retooling it if a rapid shift in technology appears. We don't know what rapid shift will go against industry stalwarts like Apple and Qualcomm, but you never know what ARM is cooking up its sleeve for the next generation of mobile chipsets, so the Taiwanese are hedging their bets. "
You have to be careful. Once that product migrates, what are going to do with that dedicated fab? We would like to keep the flexibility
", said TSMC's Chief Financial Officer Laura Ho.
Recommended Stories