T-Mobile's video teaser pays tribute to past Super Bowl ads, including Apple's "Big Brother" spot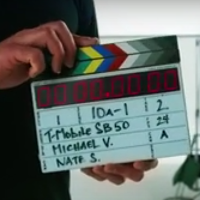 You know that T-Mobile wouldn't miss the opportunity to advertise during Super Bowl 50. The company has a pair of thirty seconds spots ready to run during the big game. Today, the carrier posted a video on social-media that is supposed to be a teaser for its ads. But if you look closely, what this video actually does is pay tribute to past ads that became Super Bowl classics.
One of the first ads that gets a tribute is VW's "Force" spot which features a pint-size Darth Vader trying to use the force on various living and inanimate objects. At the 15 second mark, the camera shows Betty White (not really) getting made up. Who could forget her fabulous Snickers Super Bowl ad when she gets decked playing touch football. By the way, the actress portraying Ms. White is holding a Snickers in her left hand! Keep watching and you'll see the sledgehammer wielding female athlete who destroys "Big Brother" in Apple's iconic Mac commercial. Following that, a famous Justin (Timberlake or Bieber?) is given a 5-minute warning.
Of course, T-Mobile says that none of the things shown in the video will be included in its Super Bowl ads. But the nation's third largest carrier promises that the other majors will hate it. Looks like we have something else to look forward to on February 7th besides more dancing from Cam Newton.
source:
T-Mobile