T-Mobile's Sievert: We're taking market share from Verizon and AT&T
19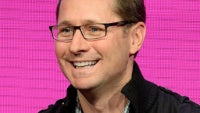 This morning, we passed along to you some
impressive numbers from T-Mobile
. The innovative carrier added 2.1 million net customers for the fourth quarter, 1.3 million of which were postpaid additions. For the year, 8.3 million net customers were added, with 4.9 million of them subscribing to a postpaid account. But the most interesting numbers were the porting ratios, which showed T-Mobile snatching away 2.1 customers from the competition, for each customer it lost in 2014.
CMO Mike Sievert, speaking at the Citi Internet, Media & Telecommunications Conference in Las Vegas today, said that other carriers are blaming the dislocation of their customers on "
irrational pricing
," and are waiting for things to return to normal. With T-Mobile in the picture, "
There will be no more normal. This is the new normal
," the executive said.
Sievert also talked about T-Mobile being known for innovation and differentiation in the wireless industry. Ironically, just this morning
AT&T introduced its version of T-Mobile's Data Stash
, which allows customers to rollover data not employed during the month, and use it anytime during the next rolling 12-month period. AT&T's version, called Rollover Data, allows customers to rollover unused data into the next month where it must be used or it will expire.
T-Mobile CTO Neville Ray also appeared on stage, and talked about T-Mobile's LTE service blanketing 300 million Americans by the end of this year. The carrier will also expand use of its 700MHz spectrum, which can cover longer distances and has superior indoor penetration. Ray also discussed the mobile operator's rollout of its "Wideband" 15 MHz x 15 MHz LTE service, which reduces congestion and allows for faster data speed in some areas. Currently, "Wideband" is used in 27 major markets and 121 metropolitan areas.
source:
FierceWireless