T-Mobile's Samsung Galaxy S III will not run on LTE network
52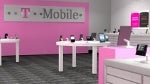 If you were planning on buying the Samsung Galaxy S III on T-Mobile with the idea that you would be eventually running data over the carrier's upcoming LTE network, better think again. A T-Mobile spokesman says that
the Samsung Galaxy S III will not run on the carrier's LTE network
, but the carrier promises to continue to operate its fast HSPA+ 42Mbps network in 2013, even when the nation's fourth largest carrier flicks the switch and turns on its LTE service.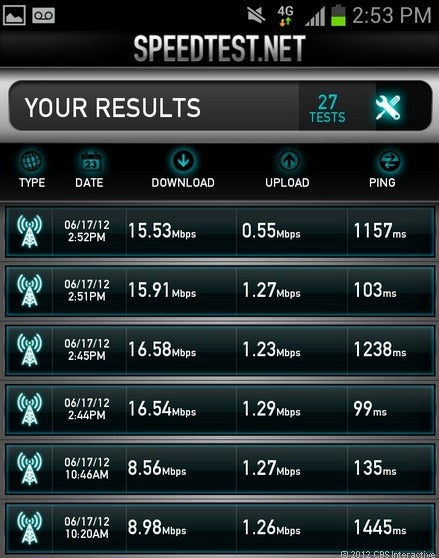 Speedtest scores of a Samsung Galaxy S III running on T-Mobile's HSPA+ network
The reason for this has to do with T-Mobile's AWS spectrum. While Verizon and AT&T use bands in the 700MHz spectrum for their respective LTE service, T-Mobile's LTE service will use the carrier's AWS spectrum. For the Samsung Galaxy S III to support T-Mobile's LTE service,
it would require adding another band to the LTE radio on the phone
. A Samsung spokesman confirmed via email that
all U.S. units of the Samsaung Galaxy S III are the same across the carriers
although the phones are optimized to work on each carrier's own network.
However, just because T-Mobile's version of the Samsung Galaxy S III will be running on the carrier's HSPA+ 42Mbps pipeline
doesn't mean it's slow
. A member of CNET's crew took off for a drive in San Francisco with the T-Mobile version of the Samsung Galaxy S III in tow and installed Speedtest.net. She was able to get download speeds as high as 16.58Mbps. While not as high as the peak 33Mbps speed she attained with AT&T''s LTE on that carrier's version of the phone, she said that the AT&T service had some dead zones.
Besides data speeds,
another issue with T-Mobile's version of the phone is price
. The 16GB version of the Samsung Galaxy S III is $279.99 with a 2-year contract or $229.99 for the value plan for which you pay interest. The 32GB version is $50 more for each plan. AT&T is charging $199.99 for the 16GB model, with a signed 2-year contract.
AT&T is not offering the 32GB unit
although Verizon and Sprint plan on asking $249.99 on contract.
source:
CNET