T-Mobile's Garminfone is now priced accordingly at $129.99 after rebate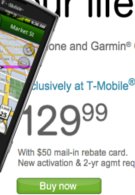 As the events unfolded in the last few days regarding the the Garminfone for T-Mobile, the fallout over speculation about lackluster sales might have taken its toll on the navigation oriented Android smartphone.
ASUS was quick to respond
over an analyst's talk about their handset, but as customers are about to be treated to a high-end Android set very soon from Samsung, the Garminfone's price drop might spur some additional sales. It would prove to be a very difficult sell to go with the Garminfone over the Samsung Vibrant, especially more so when you stack them up side-by-side in the specs department, but the new $129.99 on-contract price for the Garminfone may reinvigorate some life into the handset in the wake of the Vibrant's arrival. On the flip side, it might be a little too late at this point to recover, but time will tell at how things will go down.
Garmin-Asus Garminfone Specifications
|
Hands-on
source:
T-Mobile
via
TmoNews