T-Mobile vs Verizon, AT&T and Sprint upload speed test scores predictable winners
3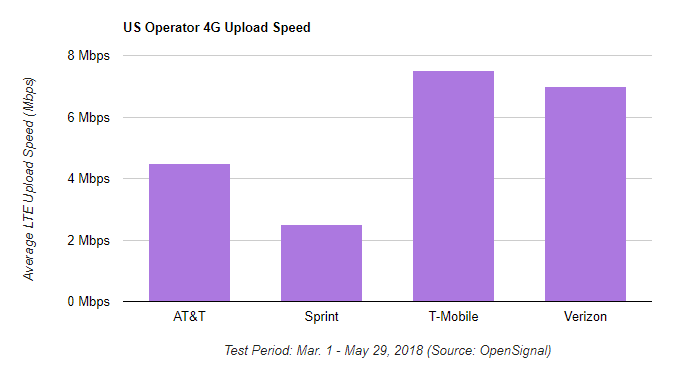 As if US carriers didn't have plenty of other network quality criteria to worry about in third-party testing reports, the enterprising folks over at
OpenSignal
decided to rank them by upload speeds this time. Usually, reports like the upcoming one by RootMetrics we
told you about
yesterday, outline things like reliability, download speeds or latency, but when we add uploads to the mix, the landscape shifts quite a bit.
OpenSignal's crowdsourced testing methodology ran probes for 90 days between March and May this year, and the results were a tad surprising. While carriers are pretty tied when it comes to downloads these days (yes, that includes Sprint which racked a huge year-on-year increase in average speeds), but when it came to uploads, Sprint averaged 2.5 Mbps, the lowest of the bunch.
Compare that to AT&T at 4.5 Mbps, or Verizon at 7Mbps, and you see that Sprint isn't prioritizing uplinks all that much. Sprint told us that it uses time division duplexing (TDD) technology, and one and the same traffic "pipes" are used for both downloads and uploads, so it can mix and match according to the trends in general usage. It deduced that 80-90% of the traffic generated on its network is on the downlink, thus allocating less bandwidth for uploading, resulting in said numbers.
Of those other carriers, T-Mobile's users are averaging 7.5 Mbps, placing the Un-carrier at the windy top, followed closely by Verizon with the commendable 7 Mbps. We say commendable, even though Verizon came second since its coverage is greater, and users on its network are much more numerous than those on T-Mobile, which likely has the uplink capacity to spare.