Verizon scores best 2018 network in most US metropolitan areas
7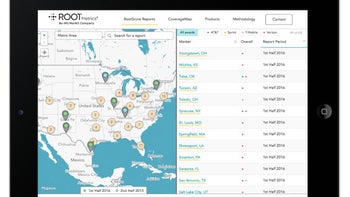 RootMetrics, a mobile network performance subsidiary of IHS, one of the largest research firms globally, has given us a sneak peek of its verdict on Verizon, AT&T, T-Mobile and Sprint's speed and reliability report for the first half of the year that will be out later this summer, and so far it's a win for Verizon, just as in the second half of 2017.
The cell network testing arm of IHS measures network reliability, network speed, data performance, call performance and text performance in 125 key markets around the US. RootMetrics has managed to cover 115 of them already, and in 91 of those the winner is either Verizon outright, or it is tied for the top spot. That's 80%, which is actually a bit lower than
Verizon's usual top dog numbers
in the same test, indicating that the others are also striving for connection excellence.
What really stood out, however, besides Verizon's accolades, is that in most markets the carriers have increased their average speeds, and, in the case of Sprint or T-Mobile, sometimes drastically, raising the overall national averages. That's pretty good news, and we are including the breakdown for some important markets, as well as the full list of where Verizon was billed the best network, in the slideshow below.