T-Mobile to announce Uncarrier X on November 10th
17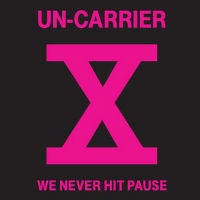 T-Mobile's Uncarrier movement just keeps on going and there's a new announcement set for just a couple weeks away. T-Mobile has put out a teaser for Uncarrier X, the tenth announcement in the series, and it is scheduled to go down on November 10th. And, we also get a bit of a clue for what it might be with the teaser, "We never hit pause."
Just yesterday, T-Mobile CEO
John Legere spoke
out against carrier overages as well, which could indicate a change to T-Mobile's data rollover policies. Right now, you have to be paying for a data plan in order to get the so-called Data Stash, but maybe T-Mobile is planning to open it up to the free data tier as well.
T-Mobile has also recently promised to offer a feature that could allow users to
share a phone number
across devices, but it may be a bit too soon to have a real announcement on that. Or, if we take "we never hit pause" more literally, it could be an update to T-Mobile's
Music Freedom
list. The teaser video does appear to point to something music related anyway.
Whatever the announcement might be, we'll find out November 10th at the event in Los Angeles.