T-Mobile takes to the sky to troll Verizon about overages
48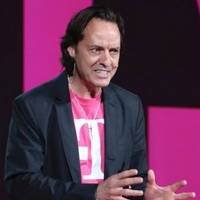 T-Mobile CEO John Legere is not one to do things quietly. So when he wanted to get the word out that Verizon still charges overages for those exceeding their monthly data caps, he sent out a message by having a plane fly above Verizon headquarters in Basking Ridge, N.J., skywriting "#AbolishOverages" where it could be read by Verizon officials.
The nation's largest carrier rose to the challenge as Verizon Spokesman Jeffrey Nelson retorted on Twitter, "
That time when your wireless company's CEO did a circus act to deflect the real problem: a lousy network that doesn't meet your expectations."
and "
That time you found yet another form of communicating more reliable than the TMobile network. #SmokeSignals #Skywriting #PonyExpress
."
T-Mobile eliminated overages in April 2014. Instead of turning the overage meter on, T-Mobile will throttle the speed of a customer's mobile internet connection once the data cap is surpassed. Verizon charges a customer $15 for each GB of data used above the data cap.
Uncharacteristically, Verizon got the last word in on Legere. Posting on the official Verizon Twitter account, the carrier wrote "
We get it, sometimes messages are unclear when you're not on America's best, most reliable 4G LTE network
." The tweet shows a plane skywriting the message "#1 in speed, reliability, coverage, performance," which is most likely based on RootMetrics' August report which had Verizon #1 in all of the cited categories.
source:
@JohnLegere
,
@JNels
,
@Verizon