T-Mobile takes a shot at Verizon in new ad promoting its 700MHz Extended Range LTE service
19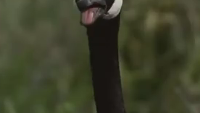 This commercial for a wireless carrier features geese flying in unison, with a voice-over announcer talking about how this carrier has grown faster than any other mobile operator. With the geese in the ad, it has to be for Verizon, right? Wrong. "
It's not who you think
," says the announcer as the image of the geese quickly turns into a guitar player and a drummer with a pink background. "
It's T-Mobile
," exclaims the voice-over talent, using the same breathless voice that one would use to announce the arrival of a super hero.
The ad mentions the
Extended Range LTE
service that John Legere and company
now have covering more than 170 markets
. Using low frequency 700MHz spectrum, LTE Band 12 travels farther and penetrates buildings better. T-Mobile thinks so highly of this deployment that it has
started a Lifetime Coverage Guarantee
for those who purchase the
Apple iPhone 6s
or
Apple iPhone 6s Plus
. Return either phone within the first month of purchase for a full refund. After the first month, T-Mobile will unlock your new iPhone so that you can use it on another carrier. And you will receive a refund for one month of service.
To hammer home to consumers that the spotty T-Mobile wireless coverage is a thing of the past, a map of T-Mobile's LTE markets is displayed while the announcer asks, "
Think you know our LTE coverage? Think again.
" The carrier's coverage map estimated for the end of this year is displayed. The commercial also points out how the 700MHz signal goes "
twice as far and is four times better in buildings
."
Will Verizon retaliate, or did T-Mobile cook its goose?
source:
T-Mobile
via
FierceWireless
Recommended Stories