T-Mobile slashes BlackBerry Classic prices by $70, grab one now for $369.99
99+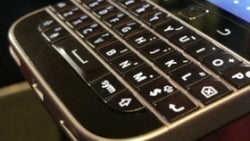 Back in April 2014, T-Mobile and BlackBerry engaged in a head-on dispute when
BlackBerry decided not to renew T-Mobile's contract
that allowed the carrier to sell BlackBerry phones. All of that ended this
May,
when
T-Mobile started selling the BlackBerry Classic through its stores
. If you've been holding out to purchase a
BlackBerry Classic
until a good deal rears its head, today is the day.
T-Mobile has just dropped the price of the BlackBerry Classic to $369.99, which is almost $70 off the handset's previous price of $439.92. If you'd rather pay for the phone as you go, you can grab the BlackBerry Classic from T-Mobile for $0 down and 24 monthly payments of $15.42.
In case you need a refresh on the BlackBerry Classic, the traditional-looking BlackBerry handset comes with a 3.5-inch display that runs at a resolution of 720 by 720 pixels, a 1.5GHz dual-core Qualcomm Snapdragon S4 processor paired with 2GB of RAM, 16GB of microSD-expandable integrated storage space, and a 2515mAh battery. In the camera department, the BlackBerry Classic is equipped with an 8MP primary shooter and a 2MP front-facing camera.
Although the Classic comes with all of the trademark design characteristic of historical BlackBerry handsets such as the 2011
Bold 9900
, including here a tool belt, a physical keyboard, and a trackpad, the Classic runs BlackBerry 10 as the operating system, meaning that the handset can also run Android apps. For more details on the smartphone, make sure to read our
BlackBerry Classic review
.
At $369.99, T-Mobile is currently offering the BlackBerry Classic at a slightly lower price compared to BlackBerry's online shop, where the Classic goes for $379.
What do you guys think of this deal? Will you take advantage of it to snag the BlackBerry Classic?