T-Mobile says that at the ballpark, you can't tell the players without an Android tablet
1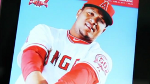 Everybody sing along. Take me out to the ballgame, take me out with the crowd.
Rent me a Samsung Galaxy Tab
...what?!! Yes, T-Mobile is changing the fan experience at L.A. Angel home games by offering to rent you either the T-Mobile G-Slate (made by LG) or the Samsung Galaxy Tab for $10. The tablet has an optimized program installed, replacing the old paper program that you use to keep score. Renters get free magazine content from Zinio and those that rent the G-Slate get access to T-Mobile TV. Tablets can be rented at the T-Mobile store at Angels Stadium.
Angels chairman Dennis Kuhl says he sees
plenty of possibilities to bring technology to the fans
and that the club is just starting to see what they can do with the tablet rentals. In a statement, T-Mobile Southern California VP Darrin Silveria said that the carrier is always happy to bring unique offerings to T-Mobile customers. Of course, T-Mobile benefits from sales of the tablets that come from a fan's experience trying it out at a game. Special apps are pre-loaded such as a
radar gun to measure how fast a pitcher is throwing the ball
. Out of town games can be streamed from ESPN and of course, the lifeblood of any baseball fan-statistics-can be found, updated during the game.
Other teams in various sports have used mobile apps to educate fans. For example, the Portland Timber soccer club joined with app developer Meridian on an app for both iOS and Android that shows you
your seat and even gives you the words to team chants
. Meridian is expected to soon announce a deal to provide apps for the NFL Jacksonville Jaguars' EverBank field. At Safeco Field in Seattle, Nintendo DS rentals are available for fans to try out the Nintendo Fan Network, but also can be used as a distraction between pitches.
Recently the L.A. Times did a video as part of a written piece on the tablet rentals at Angel games. You can check it out below. And while using a tablet at a baseball game can come in handy for figuring out
up to date batting averages and era figures
, perhaps the best use of the device is as a shield when a foul ball is screaming toward your face.
source:
LATimes
via
AllThingsD