T-Mobile releases two risque but hilarious ads you must see "if you're into that sort of thing" (UPDATE)
4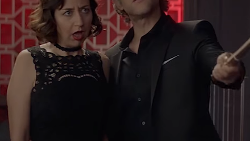 Whoa! We know that T-Mobile CEO John Legere is irreverent, but the carrier's two new ads might have set new bars for the industry. One of the spots,
featuring Snoop and Martha
(and we don't mean Snoopy and Martha Washington) makes plenty of references to Snoop's well known love of weed. In the kitchen is Martha while Snoop is laying back in a couch in an adjacent room. Let's just say that he appears to be a bit wasted.
Martha starts talking about T-Mobile One and the unlimited data subscribers receive without paying fees and taxes. Snoop answers that it is "all that and a bag of..." But before he can answer the obvious, he is cut off by Stewart who suggests a throw pillow,
herb
-roasted lamb chops, and greenery. The latter gets a look from Snoop, but Martha goes on to add "...for your topiary." Other suggestions include a pot and a can of bisque (cannabis, get it?). If this is the carrier's second Super Bowl ad that will be shown during today's game, we can only say well played, T-Mobile, well played.
Now that ad is mild compared to another one starring comedian Kristen Schaal. The "Fifty Shades of Gray" parody opens with a couple prepared for some S&M action (how else can we say it?) Opening the door to the dungeon, the man says that he has something special for his partner. It is a contraption made up of Verizon phones hanging on some chains. "Every time you go over your data limit, you get punished," he says. Brandishing a whip (No! It's a selfie stick), the gentleman adds, "Wait till you see how confusing and painful the bill is." The voice over announcer reads the tag line. "Wireless pain is fine if you're into that sort of thing." And of course, T-Mobile One is promoted as the commercial comes to an end. We're not sure if this is ticketed for the Super Bowl too, but if so we can say that T-Mobile just spent $15 million wisely.
Two funny ads that could only have come from T-Mobile. And you can see both of them hours before the game, embedded below for your viewing pleasure.
UPDATE:
T-Mobile has told us that these two ads will be seen during the Super Bowl,
along with the one that stars Justin Bieber
, a now PO'ed T.O. (for missing out on the Hall of Fame) and injured Pats' Tight End Rob Gronkowski. In addition, we have just heard from T-Mobile that there will be a fourth quarter ad was almost too hot for television. So that would suggest that the carrier spent $20 million on Sunday.
source: T-Mobile (
1
), (
2
)