T-Mobile releases "Alter Ego" commercial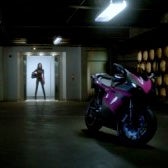 T-Mobile has unveiled the commercial that many of you have been anxiously awaiting (
judging by your 'enthusiastic' comments, anyway
). In a blog post, Peter DeLuca, senior vice president of brand, advertising, and communications at T-Mobile, explains that Carly will be choosing to sport motorcycle leathers and a 1000 cc Ducati in exchange for her signature magenta dresses.
DeLuca points out that the Ducati is intended to symbolize the speed and capabilities of T-Mobile's 4G network. While the ad ends with the phrase "No More Mr. Nice Girl", the spot is actually entitled "Alter Ego" and is intended to serve as a metaphor "for what T-Mobile is all about – challenging the status quo and taking bold steps in the marketplace as a challenger brand."
DeLuca goes on to explain, "The makeover from the girl-next-door to an edgier, more tech-savvy and spirited Carly is synonymous with the evolution of the T-Mobile brand as we continue to push the envelope with device and service innovation to deliver amazing 4G experiences at an affordable price."
The post finishes by inviting everyone to visit the new T-Mobile Test Drive website that we talked about yesterday, but unfortunately you will just be greeted by a coming soon notice.
While T-Mobile's web dev team gets to work on the Test Drive site, take a look a the new Alter Ego commercial from T-Mobile. Did it meet your high expectations?
source:
T-Mobile