T-Mobile promotes its #GetOutoftheRed plan with a couple of funny ads
8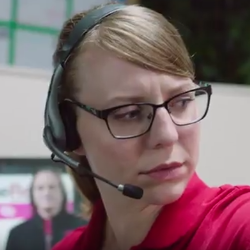 Last month,
T-Mobile announced a new plan designed to get Verizon subscribers to switch to T-Mobile
. With the #GetOutoftheRed plan, Verizon customers move to T-Mobile, thus getting out of the red. After all, Big Red is Verizon's nickname. They also get to keep the Verizon phone that they already own (certain models only; more on this later) and T-Mobile will pay off the remaining balance you owe Verizon for the handset. This is done by sending you a pre-paid MasterCard, or a pre-paid virtual MasterCard. Doing this gets you out of debt, or out of the red so to speak.
As we pointed out, this deal is limited to Verizon customers who own the
Apple iPhone 6s
or newer, and the
Google Pixel
or
Google Pixel XL
. You will need to sign up for T-Mobile One. The carrier also demands that you insure your phone using T-Mobile's Premium Device Protection Plus for $15 a month.
To promote this plan, T-Mobile has produced a couple of funny commercials. The first one shows a Verizon rep working in a call center. A sticker tacked to the side of the rep's cubicle reads "Customers = $$$." Answering a call from a Verizon customer, the rep says (with a hint of derision) that there is no way that T-Mobile will pay off a Verizon installment balance if you switch to them. "Oh they will...Oh they did?" says the rep, whose name is Matt.
All of a sudden, T-Mobile CEO John Legere appears on the rep's computer terminal explaining how T-Mobile can pay off the balance on his Verizon phone. Matt is quickly transported to T-Mobile where we assume he signs up for the new plan. He is then sent back to his office at Verizon, wearing a new T-Mobile shirt that catches the eye of his Verizon co-worker who shoots him an evil look. But watch out! If you look in the background, John Legere appears on her computer terminal and she is about to make the same switch.
The second ad shows two girls poolside. One says to the other "You got rid of Verizon just like that." The other one replies, "Switched to T-Mobile, kept my phone-everything on it. Oh, they even paid it off." Without giving away what happens next with this ad, let's say it includes matching tattoos from Spring Break 1999 and a lot of regret.
Check out the two commercials by clicking on the video slideshow below.
source: T-Mobile (
1
), (
2
)