T-Mobile prepaid broadband plans leak
1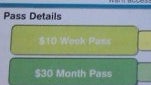 A leaked photo shows the upcoming rate plans that will be available on T-Mobile's prepaid mobile broadband service, with 3 different tiers to choose from.
There are several options available for mobile broadband at the moment that does not require an annual contract. With Verizon already in the game and AT&T unleashing their own prepaid mobile internet in the near future, it only makes sense that T-Mobile would eventually join the party.
Looking at the rate plans, T-Mobile seems to be following the trends of other big name companies that don't give the same freedom as their contracted offerings. With a contract, T-Mobile users can add their HSPA+ capable mobile broadband card for only $39.99 a month ($49.99 for other customers). The plan has a data cap of 5 MB, but does not have overages as T-Mobile utilizes speed throttling.
The highest amount of data available on these prepaid plans is 1 GB, and that will run you $50 for 30 days of service. There is another 30 day plan that has 300 MB of data usage for $30. The lowest plan is a $10 plan that will get you 100 MB of data allowance for a week. Given that these are prepaid plans, there are no overages. If you hit your cap, the internet will simply stop working until you top-up your account.
source:
Engadget