T-Mobile kicks off BOGO deal on Friday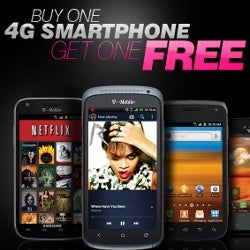 T-Mobile is kicking off a huge buy-one-get-one-free (BOGO) deal on Friday and if that wasn't enough, if you sign up for a classic plan you get a bonus of $50.
Here's the list of some of the devices you can choose from:
HTC One S 4G,
Samsung Galaxy S II 4G,
HTC Radar 4G,
Sonic 4G Mobile Hotspot,
Samsung Galaxy S Blaze 4G.
T-Mobile's big BOGO deal expires on Monday, May 28, in just a bit less than two weeks, so you still have some time to pick the perfect two devices. The second phone you get for free needs to be of equal or lower value, and that's the only condition.
The new deal even applies to The BOGO deal also applies to T-Mobile's prepaid Unlimited Value plan, but it's without the $50 bonus. Hit the source link below for all the details.